Arryman Scholar Works Toward Gender Equality in Indonesian Higher Education
Arryman Scholar Sabina Puspita, PhD Candidate in Political Science, is working on improving gender equality in higher education with the Indonesian Ministry of Education and Culture. Sabina is involved with the creation of a ministerial regulation against sexual violence in higher education in Indonesia, which is the first of its kind. Read more on Sabina's exciting and important work in the interview below.
What is your role with the Ministry right now?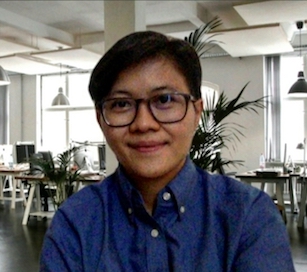 My role in the Indonesian Ministry of Education and Culture is Policy Analyst to the Minister's Special Staff. Specifically, I lead the minister's expert team for improving gender equality within the Ministry and universities across Indonesia. The main tasks include leading the creation of the first ministerial regulation on ending sexual violence in Indonesian higher education and managing the Ministry's partnerships with relevant NGOs. Our team reports directly to Minister Nadiem Makarim.
How did you get involved with this?
As I was conducting fieldwork in Jakarta, I learned about a women's rights network's plan to stage a protest on the Education and Culture Ministry's premises and went to observe the protest. It was a protest against the Ministry's inaction on cases of sexual harassment in several campuses. On a separate occasion in the following week, I met Dei Sudarmo who happened to be one of the special staff to Minister Makarim. I told him about the protest and then we discussed many issues related to gender inequality within the Indonesian academia. A few days later, I received and accepted the minister's invitation to help his ministry formulate strategies for ending sexual violence in Indonesian education. The first thing I did in my first week was bridging communications between the demonstrators and the Minster himself.
What are you aiming to accomplish with this role?

The topic of gender and sexuality is still a sensitive—and lately polarizing—issue in most parts of the Indonesian society, let alone among state officials. To date, the bill on sexual violence is still a parliamentary debate and has yet to be passed. Given the circumstance, I aim to accomplish at least three goals with this role. 
The first goal is to push for a ministerial regulation on the prevention of sexual violence in higher education. Specifically, our team seeks to establish the kind of regulation that can do two things when established. One, it accommodates the difficulties which sexual violence victims would usually experience in their university's disciplinary hearings, police stations, courtrooms, and society at large. Two, it maximizes university administrators' confidence in taking the necessary and assertive actions to keep their campus' communities safe from sexual violence.
The second goal is to maintain a participatory policymaking process within the Ministry. Our team not only connects the Ministry's officials and university rectors with various governmental, civil society, and women's rights organizations that have had years of experience in helping sexual violence victims' recovery in discussion rooms, but also engages several student representatives in the policymaking process.
Lastly, the third goal is to push for a system that could incorporate universities' conduct of redressing sexual violence victims' grievances into the accreditation process. This reformed accreditation process would be one of the ways to show that the Ministry takes the issue of sexual violence seriously. This is needed so that anyone can have the best experience in the pursuit of their higher education or academic career in any campuses across the Indonesian region, regardless of their gender or disabilities. 
How does this connect with your research interests?
My research interests address the role of the Indonesian women's movement in advancing the agenda for gender equality amid the country's democratization. Specifically, I am interested in looking at the balance of power within the movement and the ways in which the movement's demands affect state actions and inactions over time, across different regimes. 
Hence, engaging in the Ministry's efforts to end sexual violence allows me to do at least three things. First, it enables me to directly apply my knowledge on democratic institutions, gender equality, and the United States' Title IX of the Education Amendments of 1972. Second, interacting with various state actors and grassroots leaders, pushes me to think about my assumptions about the state, policymaking, and movement-state relations. Third, this experience has further motivated me to finish my dissertation project. I was quite uplifted to know that my research project is going to be part of a minor contribution to a—hopefully upcoming—major social change in Indonesian higher education.